Bringing Families and Individuals in the Lexington Area Closer to Christ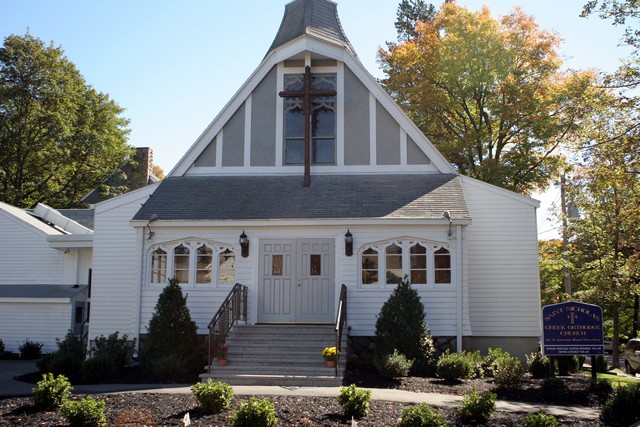 "Welcome one another, therefore, just as Christ has welcomed you, for the glory of God." - Romans 15:7
We welcome you to worship with us, whether you are an Orthodox Christian or this is your first visit to an Orthodox Church. Although Holy Communion and other Sacraments are offered only to baptized and chrismated Orthodox Christians, all are invited to receive the antidoron (blessed bread) from Father Demetri at the conclusion of the Divine Liturgy.

The antidoron is not sacramental, but is reminiscent of the agape feast that followed worship in the ancient Christian Church. After the Divine Liturgy, please join us our newly renovated Church Hall for fellowship and refreshments.
For those interested in learning more about the Orthodox Christian faith, please speak with Fr. Demetri after the service.
---
A Brief Message from the Parish Council President:
Dear St. Nicholas Family & Friends,
We met for the special General Assembly to vote on the seven-person leadership committee and seeing that there were eight candidates, a motion was passed to vote on the seven and have the eighth person be an alternate on the committee. Our 50 Year Strategic and Planning Leadership Committee consists of: Emily Babalas Blake, Carol Irene Bearse, Patty DiOrio, Jason Kontos, Melissa Papayannis, Tim Sheahan and Michael Tanionos. George Papayannis is the alternate. Congratulations and thank you for taking on this important role in helping shape the future of our church! Everyone with an interest in serving on the subcommittees will be contacted by this leadership committee. More to come at the Fall General Assembly.
Congratulations to the Gyro Fest team, led by Leto Papadopoulos and Lou Saledas. While the final numbers are still being crunched, early signs show it was a great success.
The parish house repair from the water damage is finally behind us, and the insurance payment covered nearly everything. The current tenant at the parish house signed a new 24-month lease.
As always, If you have any questions or concerns or interested in getting more involved at St. Nicholas, I look forward to hearing from you.
God bless,
Maria Decoulos
---
Services Schedule
8:15 AM Orthros
9:30 AM Divine Liturgy
Follow us on Facebook

We're also on
.....................................
Click on the above Amazon icon to shop and support your church at the same time!
......................................
ONLINE DONATIONS
EFT or credit card donations online...including stewardship, major Feast days, special events, building fund, mortgage drive and memorials.
Thank you!
.......................................
Our Archdiocese:
.....................................
Want to send an eCard?